Cinema
Upcoming Programs & Events
Dominic Angerame: A Complete Retrospective (Program 3: SEX, DEATH, PASSION)
Saturday, March 25, 2023
8pm
Admission: $10 (discount for members)
This is the third in a series of monthly screenings comprising a complete retrospective of the work of Dominic Angerame. Since 1968 Angerame has produced more than 30 films on 16mm and several newer works in digital format. Some of these films have never had a public screening. Many of Angerame's films show San Francisco, the city he has lived and worked in since 1979, and its varying cityscape as it looks and changes over time. He has also created short comedies, short-form documentaries and many diary films. Angerame has taught film in many schools and universities in the Bay Area as well as at the University of Nevada, Reno. He was Executive Director of Canyon Cinema from 1980-2012.
For this third screening we will present a compelling program of mid-career work that wrestles with the adverse forces of desire and death. All (but one) of them shot and shown on 16mm film. The program includes Anaconda Targets (2004), Consume (2003), The Waifen Maiden (2003), Pixiescope (2003), Battlestations: A Naval Adventure (2002), Phone/Film Portraits (1985), Voyeuristic Tendencies (1984), Hit the Turnpike (1984), Honeymoon in Reno (1984), I'd Rather be in Paris (1983) and The Mystery of Life (as Discovered in Los Angeles) (1982).
You Could Be with Us: Rae Diamond, Keith Evans and Suki O'Kane
Friday, April 7, 2023
7pm - food, community + outdoor projections/8pm - show
Admission: $10 (discount for members)
und o'r mountain ov r bay v river eostre
You might be somewhere else. Following the sounds of revival and worms, desiccants and drains to egg sulphur and sardine salt, the trio will create a river the audience will float down in an array of mammatus salmon ripples and low tide highs, measuring the fences of cattail vapors and gradients of unseen script: A sentence made of breath, drum wash, and stridulations blurred on walls, luminous with projections. There is something akin to blossoms opening here. You could be with us.
with Rae Diamond (movement, voice, viola), Keith Evans (moving image, electronics), and Suki O'Kane (percussion, electronics, handheld projection)
Image: Amphoterism (2021) by Keith Evans, Photo by Kevin Corcoran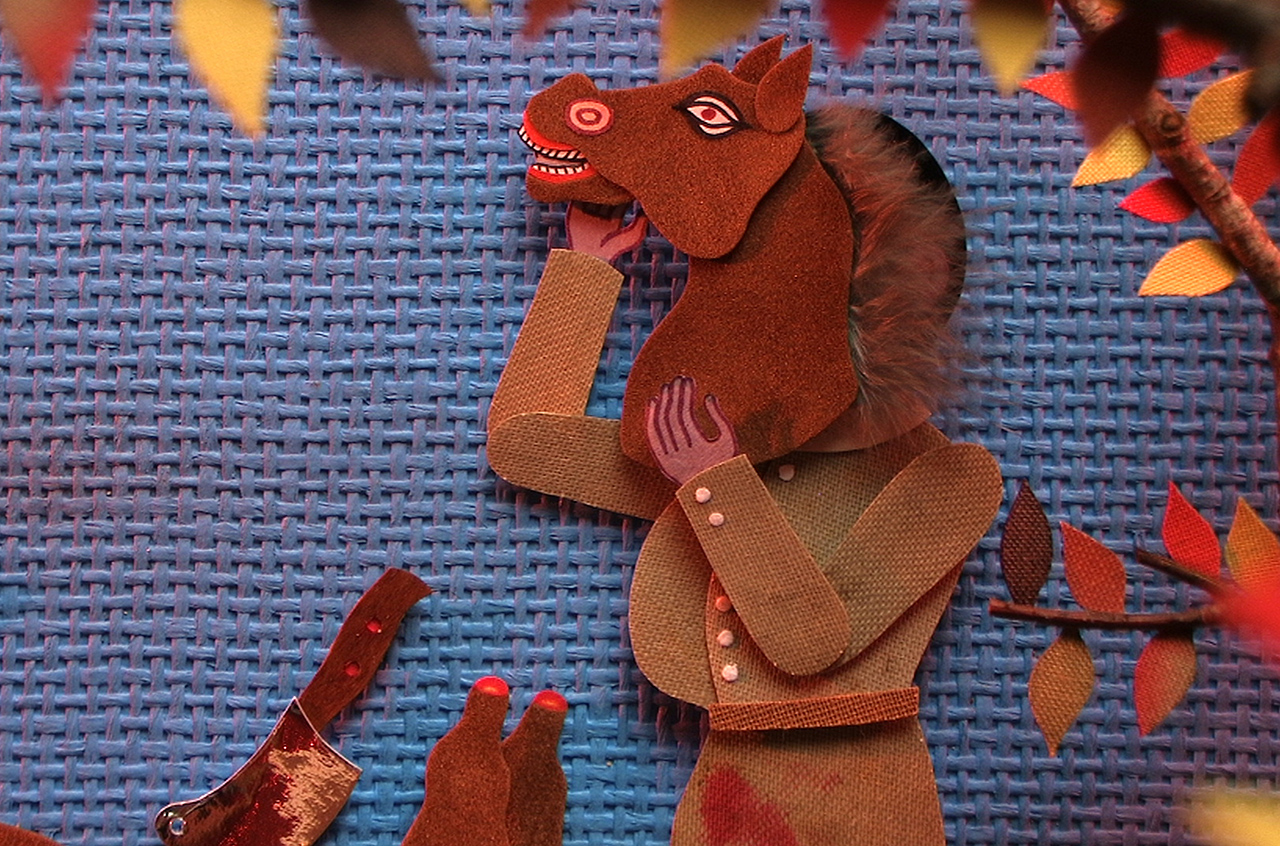 Animated Shorts by Lydia Greer & Luca Dipierro
Friday, April 14, 2023
8pm
Admission: $10 (discount for members)
Join us for this moving image feast featuring two west coast artists who use puppets, non-linear narrative and stop motion animation to delight and unsettle. East Bay artist Lydia Greer will show a selection of recent short pieces, including two animated music videos—Absentee and Unproud Warrior—both made, in collaboration with Caryl Kientz and Facing West Shadows, for singer-songwriter Cass McCombs and Anti- Records. She will also be sharing excerpts from recent pieces made using puppets, props and performing objects in collaboration with Facing West Shadows. Portland-based artist Luca Dipierro, will present his latest film, The Cadence - A Tale of Paper and Cloth, a 33-minute animation shot in stop motion, using marionettes made with paper, bookcloth, and thread. Five years in the making, The Cadence tells the story of a boy, lover of silence, and the journey toward his own beginning. The program will also include a selection of Dipierro's short films made between 2012 and 2018 that dive into themes of loneliness, death and violence through the playfulness and symbolic resonance of the puppet theater.
The Simulacrum Is True: Scott Stark & 99 Hooker
Friday, May 12, 2023
8pm
Admission: $10 (discount for members)
Join us for an enthralling evening of hyperreal channel-surfing with media artists Scott Stark and 99 Hooker who will re-arrange before our very eyes the deck chairs on the sinking cultural ship of planet Earth using an assortment of old and new media that they will extract from their respective technological satchels.
The Last Forever is a multi-media live performance composed by Scott Stark and Kamila Kuc. During the pandemic, these two artists independently perused hundreds of discarded 35mm family slides from diverse sources and then proceeded to exchange images and captions in a series of on-line "exquisite corpse" tennis sets allowing mysterious characters and spontaneous plot twists to evolve into a playful narrative about a spouse who's gone missing. In many of these seemingly mundane images, the artists discovered subtle indicators of interpersonal family dynamics captured by the camera during dinners, parties and travels which provided clues to the artists' playful ruminations on the complexities of human and more-than-human relations as mediated by technology.
Mixing audio and visual information for real time media, "h9sh" by 99 Hooker is equal parts prose poem, music video, extended cinema and hallucinatory TV, involving 4D portraits, chaos poetry, surreal soundtracks, art history lectures by Stan Brakhage, Bruce Conner multiplied (15,000 frames), Marie Menken's handheld genius and so much more, all culled from an endless archive of material aquired and created over the years. h9sh - ACTION: 1a.) to chop into small pieces b.) confuse, meddle; 2.) to talk about, review as in "h9sh over"; 3.) #media link. THING 1.) delicious with Bomba sauce 2.) restatement (remix) of the previously "known," 3.) Hodgepodge. 4.) Intoxicant. Free with purchase.